Every so often, I come across someone who swears the world revolves around them, that they do no wrong, and that their way is the
only
way. While I'm sure in their world that's probably the case, but in the
real
world, such delusions of grandeur can be construed as misguided arrogance, conceit, and an unhealthy lack of humility. If this person were under 25, I might accept their logic as a simple case of immaturity, but if said person is over 30, educated, seasoned, and has been exposed to the
real
world, I'm left wondering in which parallel universe do they reside? Let's be for real here, it's simply
not
about you and you're really
not
as important as you think you are.
Fantasy #1:
The need to defer back to their youth or how hard they are when they want to exert their credibility.
Reality:
If you have to constantly bring this up, then you actually
haven't
matured enough. You also have
NOT
manned/womaned up at all. In fact, you're SoS (stuck on stupid).
Fantasy #2:
Everything is about them.
Reality:
Huh? What? Are you serious? Give me a fucking break. It's this simple…YOU ARE NOT ALL THAT! If you have to constantly praise yourself, then it's not really praise is it? Self-praise shows a depravity in your psyche and your constant need to do this in order to appear larger than life is pathetic and redundant.
Fantasy #3:
Marginalizing others or believing their own hype.
Reality:
Self-explanatory; though I will say that those who conform to this state of being are typically alone and rather lonely in their existence. In addition, the company they keep tends to be of a lesser caliber characteristically than the individual. This is done in order to out shine their company and again present themselves to be "better".
Fantasy #4:
Everyone needs someone like them in their life.
Reality:
Yes, to some degree we all do need someone to who is of that caliber so we can see what is not necessary bullshit to put up with. So, thanks for being so fucking ignorant, arrogant, and self-serving.
Fantasy #5:
The need to control and belabor a point.
Reality:
Uhm, do you really think that others have
that
much time and energy to argue with you? Nah, doubt it! In fact, I'd rather go toe-to-toe with the Energizer Bunny cause I can at least take the damned battery out to stop it. With someone so delusional, they never tire of themselves and can only be stopped if insulted (providing they pay attention enough to know they were); if you concede to their incessant yapping because while you probably know you're right, it's easier that way; and/or if you can't do anything to shut them the fuck up.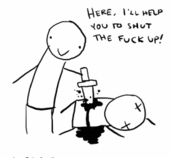 This is merely a small sampling of what I, and maybe some of you encounter in your life. I've come to the conclusion that it's for the greater good to avoid and/or limit contact with said individuals as much as possible since homicide is still illegal (dammit) in all 50 states.